Stay. Eat. Explore!
Welcome to Vancouver, Jewel of the We(s)t Coast!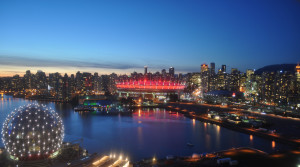 Where should I stay?
Vancouver has a number of options for hostelry, from homestays to high-end hotels. We'd recommend the Best Western Plus Uptown and the Howard Johnson Plaza for accessibility and walkability- It's a 5-minute cab ride from either hostelry to the venue. Another option is AirBNB, which offers a range of accommodations in homes through the city and surrounding area. If you're into nostalgia and staying a couple of blocks away from us, the 2400 Court Motel offers both! And if you're looking to live in the lap of luxury, might we recommend The Opus Hotel (they don't do beige!), or the Fairmont Waterfront?
What will the weather be like? It's May… May's nice, right?
Some…times. The weather is, in a word, persnickety. Edmonton and Winnipeg have freak snowstorms, Vancouver has those PLUS monsoons, heat waves, and fog. It's always an adventure! Just make sure you have an umbrella, warm gumboots, and a bikini. You can go skiing in the morning, then spend the afternoon at the beach. It's all up to you!
Vancouver has a wicked wide variety of amazing cuisine. From Pacific Rim to Indian to veggie or vegan, it's all good! Here's a few of our favourites:
Breakfast/Lunch
Locus, Cindy's Palace (dim sum), Cafe Deux Soleil, Sophie's Cosmic Cafe, The Tipper, Save-On-Meats, Habit,  Foundation, Hawker's Delight, Helen's, Sake Maki.
Supper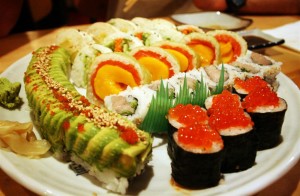 Any of the above, plus
Toshi, Chop Steakhouse, The Reef, Fatty Cow Hotpot, Anton's Pasta, Ragazzi Pizza, Wild Rice, Vij's, East is East, Rumpus Room, Sawasdee Thai, Thai House, Ogenki, Alibi Room, Falconetti's, The Wallflower.
Bar/Tapas/Late Night
Gyoza King, Suika, Bao Bei, The Dime, Sandy-La, The Pint, Subeez, The Cascade Room.
How do I get around the city?
Boats and busses and trains, oh my! Vancouver has a pretty awesome transit system. You can check out the TransLink website for trip planning and route ideas.
Vancouver is an amazingly bike-able city. Why not explore by bicycle? You can rent bikes at a variety of places, like here.
If you'd rather be in a self-contained unit, you can take a taxi or rent a car. If you'd like to drive to the wedding, but aren't sure if you'll be able to drive home, A Safe Alternative will help get you there. For about 15% more than the average cab fare, they'll drive you AND your car home. How great is that?
I'll be there for a while. What should I do?
Whatever you want. Seriously. Who are we to tell you what to do? Check out the Tourism Vancouver website for a list of attractions, museums and events. There's tons of shopping, galleries, and sightseeing. Take a walk in Stanley Park. Go for a sail. Meet the belugas at the Vancouver Aquarium, or get your geek on at Science World. While away a day at a cafe on Commercial drive. Watch hipsters tightpantedly wiggle around on Main. But above all, kick back and enjoy yourself!